9 Best Makeup Removers In India
Hello Makeupholics,
Don't we all love makeup and love to buy more and more of it, but there is one more important product that you must keep with yourself all the time if you are a true makeup lover i.e "Makeup Remover". You must be looking beautiful with that perfect foundation application and your long lasting matte lipstick which is still intact after full meals but you must not sleep with all that makeup on. There are many Harmful effects of Sleeping with makeup and I am sure your would not like your skin to get irritated with makeup so its best keep a good makeup remover handy and remove every trace of makeup before hitting the bed and let your skin breathe.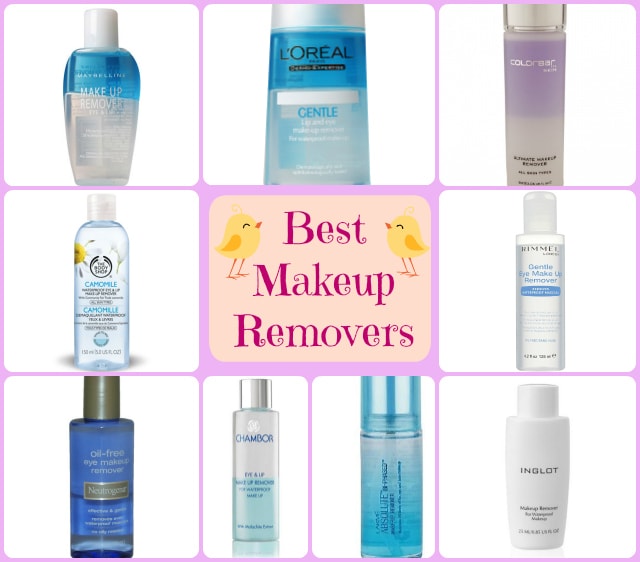 The Makeup Remover has to be tough on makeup but soft on skin and there is a huge range of makeup removers available including Oil based Makeup removers, Alcohol Free makeup removers, Creamy Makeup Removers and Bi phase ( Dual – Phase Makeup removers) which are currently the most common and most effective makeup removers.
Dual Phase Makeup Removers have unique formulation of oil and water which combines the cleansing properties of oil with the refreshing properties of water to give you a clean skin and refreshing experience. The oil phase removes make-up while the light water phase ensures that you stay refreshed and hydrated.
Here are the Steps to Use Makeup remover:
Shake the bottle well to Mix and activate the removal ingredients
Pour the Makeup remover on Cotton swab and apply it on the face while gently swiping it all over face, lips and eyes, taking off all the traces of Makeup
Follow with your regular face wash to remove any oil or makeup residue left on the skin.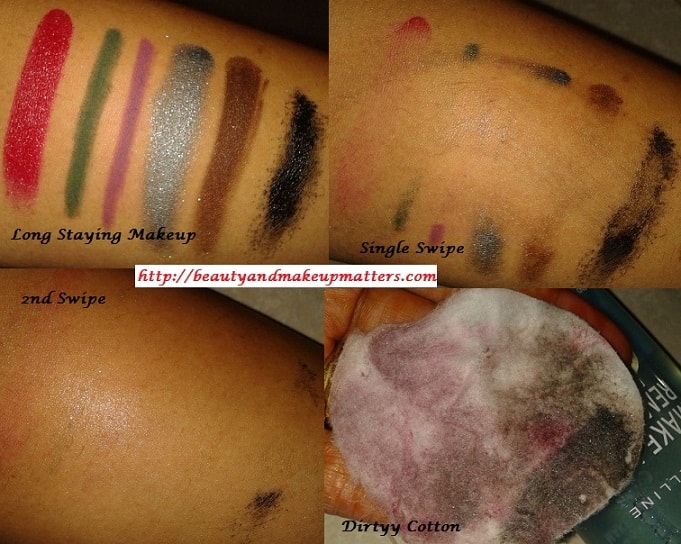 So you can choose from this List of Makeup Removers:
Maybelline Bi Phase Eye and Lip Make-up Remover (Rs 275/ ): Maybelline Bi Phase Eye and Lip Make-up Remover is also a dual phase remover and recently got a revamped to a new formula and new packaging with Maybelline City Rescue Clean Express Makeup Remover. I have used the old one and loved it to the core which removed even the toughest makeup and the dual phase formula breaks the long wear makeup instantly. It comes in a see through plastic bottle. The new formula with Maybelline Total Clean express is Oil-free so it's safe fro Oily acne prone skin. I hope the new one is as good as or even better than the previous version.
Lakme Absolute Bi-phased Makeup Remover (Rs. 225/60 ml): Lakme Absolute Bi-phased Makeup Remove is a dual phase makeup remover which comes in a see through plastic bottle packaging and a pump dispenser. I adore its fully functional packaging as I like to spray it directly on the face with that spray dispenser. I need to shake the bottle well before using it for makeup removal, sop that the ingredients mix well and work better for removing makeup. It effectively removed even the toughest of makeup like Waterproof Mascara, Smudge proof eye liner and tinted lip sticks and lip stain from lips. It didn't sting my eyes, so its safe for eye makeup removal as well
Colorbar Ultimate Makeup Remover (Rs. 699/ 90 ml): Colorbar Ultimate Makeup Remover is the only drugstore makeup remover that comes in 4 versions for all skin types like Oily Skin and Combination skin which contains tea tree oil, Sensitive skin, All skin types and for Normal and Dry skin which is composed of Jojoba oil to meet skin requirements. It is again a dual phased makeup remover which carefully removes makeup without irritating skin. It is just a little pricey compared to other makeup removers but it does a good job and effortlessly removes makeup. The formula is safe to be used for eye makeup removal as well
Loreal Paris Dermo Expertise Gentle Lip and Eye Makeup Remover (Rs 425/ 125 ml) – The formula is fragrance free and doesn't cause any irritation so can be used for sensitive eyes. Loreal Paris Dermo Expertise Gentle Lip and Eye Makeup Remover takes off the makeup easily but you might not enjoy the oily film it leaves on skin. I usually follow with a face wash so that doesnt bother me but oily skinned ladies might not like it.
Chambor Eye & Lip Make-up Remover (Rs. 850) – Chambor Eye & Lip Make-up Remover is another bi phased remover that comes with Malachite Extracts which has anti-oxidant and detoxifying properties. It dissolves all the makeup within seconds and in 2 swipes you are left with a clean makeup free skin but like most of these dual phased makeup removers it leaves an oily film on skin, so do follow with a face to enjoy clean and fresh skin
Neutrogena Oil Free Eye Makeup Remover Lotion (Rs 249/ 160ml): Neutrogena Oil Free Eye Makeup Remover is also a dual phase makeup remover which whisk away makeup without tugging or pulling the skin. It is claimed to be an oil free makeup remover which sounds perfect for oily and combination skin but it does leave an oily residue. It doesn't sting but if it gets into eyes you will feel the itch. It removes makeup but with a little effort for long lasting lipsticks and waterproof formulas
The Body Shop Camomile Waterproof Eye and Lip Makeup Remover (Rs. 695/ 150ml): The Body Shop Camomile Waterproof Eye and Lip makeup remover has a Bi-phase formula that takes off waterproof eye makeup easily without irritating eyes. With its alcohol-free and fragrance free formula, it is suitable for sensitive skin as the well
INGLOT Makeup Remover (Rs. 750/100ml) – INGLOT Makeup Remover is a water based makeup remover that does it job effectively and cleans makeup without leaving any oily residue behind. It doesn't sting eyes so safe for using for eye makeup removal. The remover will suit all skin types and has a Paraben free formula which is another plus.
Rimmel London Gentle Eye Make Up Remover (Rs. 375 /125 ml): Rimmel London Gentle Eye Make Up Remover is another makeup remover within budget. It has an oil free formula which feel extremely light on skin and gently removes all eye make up, including long lasting and waterproof make up leaving no traces of oil and makeup behind.
Here is bonus for All of you 😉
DIY Olive Oil Makeup Remover: After looking at all these chemical based makeup removers, you are still not convinced to invest in any of these here is a quick Do-It-Yourself option for you, if you plan to give those harmful chemical compositions a skip. I have made this easy homemade makeup remover using natural ingredients like Olive Oil, Rose Water and Glycerin and I must say it is doing a fabulous job. I am already on my second bottle and I am sure this will be staple in my skin care routine while the Chemical makeup remover come and go.. 😛
Don't Miss to Checkout:
These are some of the affordable and most easily available makeup removers in India. Even you are left with little energy, it is a must to take off makeup before going to bed! Don't forget to share your experience too and also if you have recommendation on any other affordable Makeup removers… you have my ears 😉
Have tried any of these Makeup Removers? Which is your favourite Makeup Remover?