6 Worst Makeup Products 2014 
Hello Everyone,
How is your weekend going on? I am stuck at home with no access to my dressing room :(. Carpenter is home to repair some of the drawers and the continuous of rubbing and hammering is making me nuts.. 😛
I couldn't work on anything else but to share with your most disappointing products of 2014. Its not that they got a 0 rating but have expected much better performance and consistency among shades but the formula was disappointing behaving even worse with some of the shades.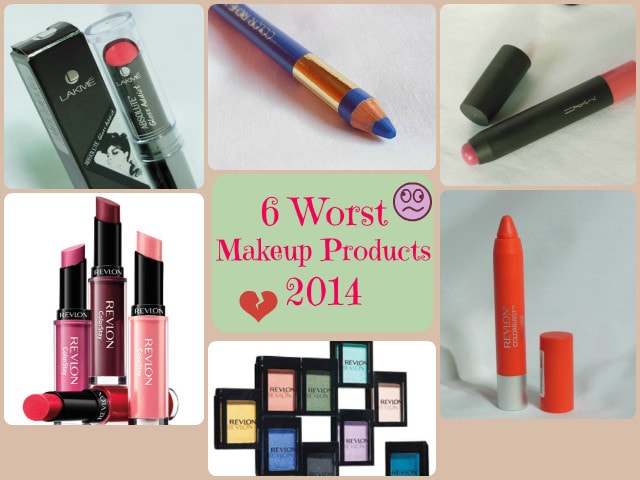 So, here is the list of 6 Worst Makeup products 2014:
Lakme Absolute Gloss Addict Lipstick– (Rs. 700) Lakme Absolute Gloss Addict Lipsticks have super smooth texture and hydrating formula but it sticks to lip flakes and goes uneven on chapped lips which ruined the purpose of these lipsticks for dry lips. I got Lakme Absolute Gloss Addict Lipstick Desert Rose, a super glossy rosy pink colored lipstick with buildable coverage which makes a gorgeous everyday pink but it is definitely not the best pick for pigmented lips.
Revlon Colorburst Matte Lip balms – (Rs. 800.00) Revlon Colorburst Matte Balm have a creamy texture which glides easily but doesn't give a smooth and even application. The formula has a crayon finish which draws lines and swooshy pattern on lips and has a tingling sensation too, much to my dislike. I tried Revlon Colorburst Matte Balm Audacious, a beautiful soft orangey coral shade but it made my lips look so tacky.
L'Oreal Color Riche Le Kohl – (Rs. 375). L'Oreal Color Riche Le Kohl, have creamy texture but has slight waxy feel to it due to which I have to swipe it hard against the lids for good color pay off. I tried to create some eye liner design and the application starts getting patchier with uneven color distribution. I bought L'Oreal Color Riche Le Kohl – Portofino Blue, a bright blue shade with violet undertones in matte finish but it has been hard to get decent color on lids.
MAC PatentPolish Lip Pencil  (Rs. 1300) – MAC PatentPolish Lip Pencil comes in retractable packaging but it feels sticky on application, doesn't provide complete coverage to pigmented lips and gets a bit uneven with multiple swipes. Also, it tends to settle in lip lines and accentuate lip imperfection once it starts wearing off. I had MAC PatentPolish Lip Pencil Kittenish, a pretty mauve pink shade with a creamy shine but was not worthy of an investment! 😛
Revlon Colostay Eye Shadow Links (Rs. 149) – Revlon Colostay Eye Shadow Links have a hard texture and has mostly poor color payoff across shades. One has to swipe really hard to get some color on lids and the shade didn't last long on lids.
Revlon Colorstay Ultimate Seude Lipsticks (Rs. 575) – Revlon Colorstay Ultimate Seude Lipstick have creamy consistency but it dries to a matte finish and starts accentuating lip lines that weren't there before. It feels uncomfortable on lips and the color pay off wont work for pigmented lips.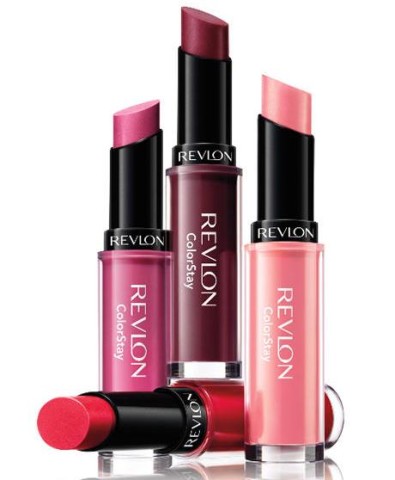 This was my list of Most disappointing Makeup products 2014.. 😛
Which was most disappointing Makeup product for you? Share your list in Comments.