6 Summer Makeup Essentials: My Must Haves
Hey Hottiee,
Are you wondering if I am talking about the weather or complementing you.. I guess I am addressing both.. bcz its Hot!! I love summers because I feel so much light shedding all the winter weight but the only thing that concerns me is sweat and heat. I definitely can't think of wearing a full coverage/heavy foundation or thick creamy lipsticks because the moment I will step out, my face will melt like a cake which is definitely not something I would like… so what do I do.. Do I skip on Makeup completely?? … Noo!! I have few fixed summer makeup essentials that save me in hot and sweaty summers. Today, I am sharing my Summer Makeup Essentials with you.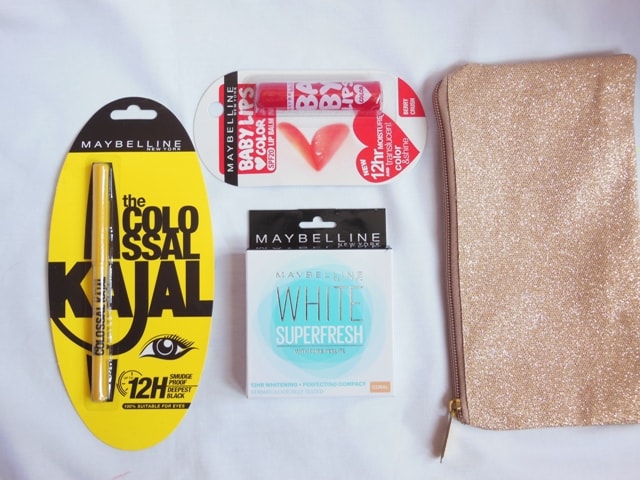 My Summer Makeup Essentials:
Compact: Compact or Pressed Powder is the most important part of my Summer Makeup Routine. It's a life saver in summers as it controls facial oils and give a fresh, matte look to the skin. Maybelline White Super Fresh Compact makes a great pick for the same as it is very affordable and does a decent job at giving sheer coverage and natural matte finish to the skin.
Kajal/Kohl: I look almost dead without Kohl so it is definite must have for me. As, I cant afford a kohl that easily smudges I trust only the best for that and hence I choose Maybelline Colossal Kajal. Currently, I am loving the latest launch from Maybelline, Maybelline Super Black Kajal even more.
Lip Balms: I love all my lipsticks but mostly it's the tinted lip balms that makes it to my lips in summers. Nothing can beat the Maybelline Baby Lips here. They are available in so many beautiful shades and adds such a gorgeous tint to the lips while keeping them nourished whole day. Added SPF 20 in the formula is a bonus to protect lips in summers.
Oil Blotting Sheets: I have a dry skin so I don't really need these but if you have super oily skin then these are your best buddies. Do, carry a pack of Oil Blotting sheets along and take away all the oils from the face instantly revealing a fresher you!
BB cream: On days, when my skin is in bad mood and the compact will not be able to save the face, I apply a thin layer of BB Cream and set it with compact. This gives that required coverage without feeling heavy or cakey.
Mascara: I admit I don't do it every time but if my eyes are droopy because of the sleepless night and the kajal isn't helping much I will just add few coats of mascara for that open eyed look and I am set!
I absolutely love the newly launched Summer Essentials Kit from Maybelline which contains 3 awesome products to beat the heat and keep you look fresh and flawless all day.
I just wish they have added some more like Mascara, BB cream .. and it would have been perfect.
What are your Summer Makeup Essentials? Do Share in the comments below?
PS: Products sent by brand for consideration.