6 Step Korean Skincare Routine with Benton
Hello Everyone,
I am totally into Korean skin care from past few weeks and have been digging them hard so as to achieve the same flawless skin that Korean beauties are blessed with and maintain by using the amazing skincare products from their own country. I have read and heard so much about how wonderful Korean skincare is,,that I am actually going nuts about using them. I have used quite a few of face mask sheets from Korean brands and least to say that I am highly impressed with the results. To add on to my skin care experiments I am super excited to share my experience with "Benton" products that I have been religiously using since the start of this month. Lets see how effective Benton Skincare products are for me.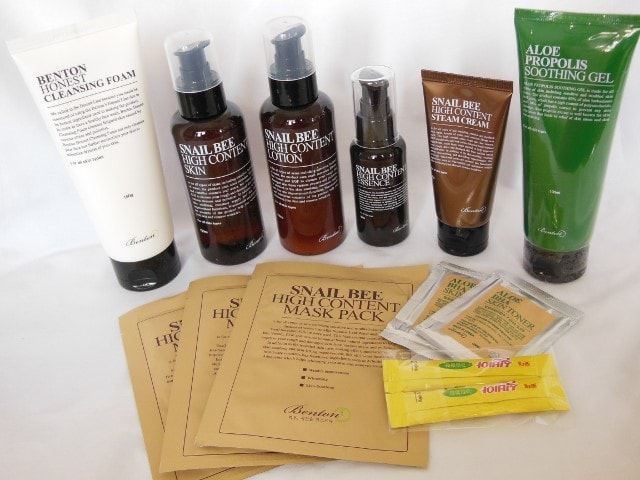 Products I Am Using:
Benton Honest Cleansing Foam
Benton Snail Bee High Content Skin
Benton Snail Bee High Content Essence
Benton Snail Bee High Content Lotion
Benton Snail Bee High Content Steam Cream
Benton High Content Mask Pack
Benton Aloe Propolis Soothing Gel
Benton Skin Care Products:
Things that I Love:
The first thing that I noticed with these products is packaging where all of them are packaged in nice, sturdy bottle and tubes which are convenient to use and Hygienic too. So dipping in jars to scoop out the stuff and worry about contamination is out of question!
The ingredients list is super impressive where most of the brands contains just the traces of good ones, the Benton Skin care products are full of skin friendly natural ingredients that can actually do wonders to your skin. Snail Bee High Content range doesn't have water which is usually the base of most of the skin care products rather has higher content of product that will further enhance my skin quality
I absolutely loved the fact that most of the products have no fillers in the formulation (just the good stuff ) and if there is some then it would be the least amount of fillers used in the product. The natural ingredients will actually work on improving the skin healthy by soothing the irritated skin, reducing the acne scars or redness, brightening the overall skin tone and providing nice hydration to the skin.
Formula is free from Parabens, mineral oil, alcohol, artificial Fragrance and all sorts of Chemical preservatives. So no harmful chemicals to damage your skin!! Big Thumbs Up J
Most of the products in the range will work for all skin types like the Cleanser, Aloe Gel, Essence, Toner and the Mask. They have antibacterial ingredients which will help in calming and soothing the irritated skin
Benton products are affordably priced, so it wouldn't cost you a bomb to incorporate Korean skincare in your daily routine.
Things that Could have been Better:
While most of the products works nicely for me especially when used in conjuction but if used and considered as single products in your skin care regime , the few improvements can be:

Benton Honest Cleansing Foam – Best for Oily/combi skin but could have just slightly more hydrating for dry skin.
Benton Snail Bee High Content Skin- It has slight stickiness which takes some time to disappear
Benton Snail Bee High Content Lotion – It takes time to get absorbed into the skin and can be a little heavy for oily/combi skin in summers
Benton Snail Bee High Content Steam Cream – It is my least favorite product from all. It feels heavy on skin and cause sweat. Absolute No for Oily/combi skin but might work for dry skin in winters.( will be testing it!)
How to Apply:
This is the most important aspect of Korean skincare and that is why it is a 6 step Skin care routine because 6 different products are applied on skin one after the other to achieve that flawless skin. Thumb rule is apply products after cleansing the face, from most watery consistency to least watery consistency.
Application Sequence:
Cleansing Foam -> Skin/Toner -> Essence -> Lotion -> Steam Cream -> Mask Sheet
I know it must be looking too much to do but trust me you will be amazed by the results if you do. Listing my Favorite products in the sequence just in case you don't want to buy the whole line.
Favorite Benton Skincare Products:
Aloe Gel > Essence> Skin/Toner> Mask Sheet> Cleansing Foam> Lotion> Steam Cream
This is an overall review of the range so as to give you an idea about it. I will be posting individual reviews of the products for you to see how they perform on me and what I like about them the most.. Stay Tuned!!
Disclaimer: There are many opinions on Benton skin care product where some people like them while others not. Also, last year a Benton products batch was damaged due to high temperatures which caused skin issues to many round the globe. So, it seems that the natural preservative system used for these products is not stable in extreme temperatures. I will suggest not to order the products from overseas in extreme temperatures, particularly during summer months.
PS: Product sent by brand for consideration