5 Must Have "theBalm" Blushes
Hello..,,
The day I went bankrupt and suffering a shopping ban for next few months .. due to insane shopping on sales and discounts, saw this "Flat 50% off on all of the theBalm Products" message in my inbox. I was like Shit.. I must have saved for this. Now, that I have ripped apart my bank account. and literally tormented for not being able to shop this time.. I am sitting next to my lappy which is full of the theBalm products opened in all of the Chrome sessions… with head in my hands 🙁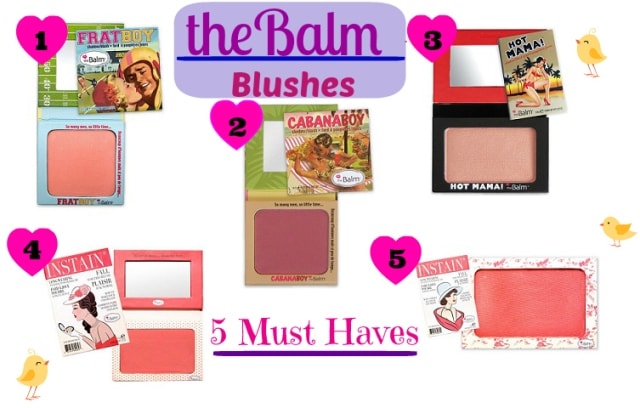 theBalm makes high-quality products but their USP is their retro-inspired packaging. The packaging is unlike the regular makeup products which comes in plastic in metal cases but sturdy cardboard boxes resembling some vintage fashion magazine.. so appealing and prettyy.. <3 <3
Though I couldn't make it this time but will be keeping a close eye for any upcoming offer and will make sure that I get all from my wishlist! :). So, today I am listing 5 blushes from theBalm that secures a space in my must have list.
5 Must have TheBalm Blushes
theBalm Cabana Boy Blush ($21) – It is a matte finish dusty-rose with plum undertones. It doubles up as an eye shadow to add plummy-rosy hue to the lids.
theBalm Frat Boy Blush ($21) – One of the most talked about blush, extremely wearable peachy pink blush sans and shimmers which works as a great crease-blending color.
theBalm Hot Mama Blush ($20) – Again a peachy pink blush but has finely milled gold shimmers in the formula for an amped up look and scintillating cheeks. The shades makes a great lid color too for a brightened eye look.
theBalm Tolie Instain Long-Wearing Staining Powder Blush ($21) – Tolie is a beautiful bright coral pink blush with slight sheen. It is such a pretty shade.. <3
theBalm Swiss Dot Instain Long-Wearing Staining Powder Blush ($21) – Swiss Dot is a matte orange shade, which makes it a perfect pick for upcoming summers.
theBalm website has high international shipping ($35) .. but if you can find somebody as madly in love with makeup as you, place and order together or Pester your international friends/relatives to get these for you! Don't forget to tell me.. I am damn interested on laying hands on these gorgeous blushes.
Don't Miss to Checkout:
Have you tried any theBalm Blushes? Which is your favorite brand for Blushes?
PS: theBalm has postponed the offer for sometime due to some server issue and they promised to come up with this offer again soon. So stay tuned… and do share what all are you planning to hoard from theBalm.. 😉