Best Natural Skincare Brands in India: Made in India
Taking care of the skin in most natura way is the best thing that we can do to our skin. And with this sudden surge in Natural skin care brands in India, it is so easy to do that. I have been obsessed with natural, herbal skincare products for past few months. I have tried a lot of natural skincare brands and I am happy to say that most of them have impressed me with their products.
The products don't contain any harmful chemicals or preservatives like Parabens, Fillers, Sulphates, Mineral Oil etc. which means I will be using nothing but the best on the skin.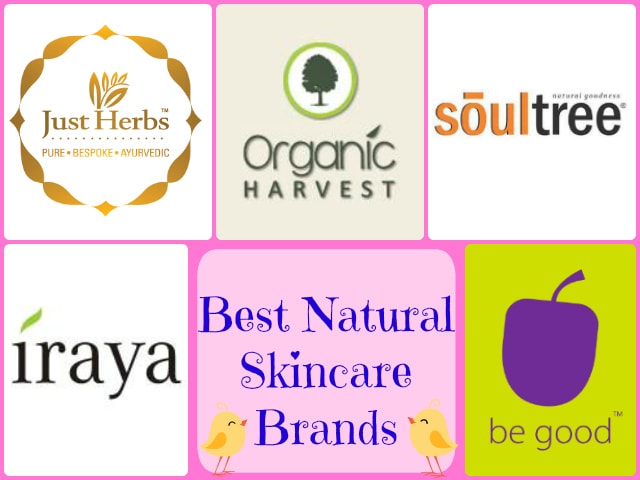 So, lets checkout what all brands made it to my Top 5 Natural Brands in India:
Best Natural Skincare Brands in India
Just Herbs: Just Herbs provides Luxurious and Safe Natural Skincare that works. It is a line of pure, bespoke and Ayurvedic results driven skincare made from certified orgnic ingredients from across India. Just Herbs is one of my favorite natural herbal brand. I have tried a lot of products like Just Herbs Silk Splash Face Wash, Just Herbs Facial Serum, Just Herbs Under Eye Cream and many more. I am impressed with the quality of the products and how effectively they worked for me. Just Herbs Face packs are next on my list and I can't wait to lay my hands on them. I love them more for the fact that they share full ingredients list of the products
Organic Harvest: Organic Harvest is India's only homegrown brand with an entire range of organic skin care products which speak of nature in its purest form. Of all the products I have tried, I absolutely love the non-sticky Sunscreen, creamy cleanser, nourishing night cream and the Anti-tan Mask from the brand. I really to want to try more products from their Hair care and Body care range. I just wish they start disclosing full ingredients list on the products.
Iraya: Iraya Pure Ayurveda translated from Sanskrit, as 'from the Earth' was born out of Ayurveda. Discover Original Ayurvedic Recipes blended with only the finest ingredients with Iraya. Iraya Offers a bunch of Ayurvedic Oils blended with the finest quality herbs and pure Cold-pressed oils, made through a slow, authentic process that ensures full potency of the herbs and oils. I loved the bath and Body products like Iraya Lotus Shower gel and Iraya Reviving Salt Body polish from the brand but I really wanna try their Ayurvedic Oils now.
Plum Goodness: Plum Goodness believes in creating Goodness – the Plum way. A really simple process of picking rich, natural ingredients that can do good to your skin and using only scientifically proven ingredients that are 100% safe beyond doubt. Plum products are 100% vegan and are free from parabens, phthalates and SLS. I have tried a few and was highly impressed with the quality. Their Green Tea skincare range and the Grapeseed infused night cream and mask are the best.
SoulTree: SoulTree promises to bring nature's goodness with honesty and responsibility. The products are made authentic natural products and are free from all sorts of fillers and chemicals. Their products even pass the Stringent European standards. I recently their Turmeric and Rose Face Wash and fell in love with it. Their Kokum Butter Body Lotion is my another favorite.
Don't Miss to Checkout:
Overall:
So, this is my list of Best Natural Skincare Brands in India which are Made in India. You must have a look at their products and I am sure you will be drooled. The brands offer amazing products.
People has a notion that Natural products aren't as effective as chemically formulated ones. But the latter may prove harmful to the skin in the long run while former will be safe for us and our earth. It's time to discover pure, nourishing, loving care with these beautiful natural Skincare products.
Have you tried any of these Natural Skincare Brands in India? Which is your favorite skincare brand?