5 Best Daily Wear Mousse Foundations for Oily Skin
Hello Everyone,
I have shared a list of Best Drugstore Foundations for Dry skin and then I was bombarded with requests for doing the same thing for Oily skinned beauties. Now, I shall be sharing a compilation of Foundations for Oily skin in another post but before that I wanted to do an exclusive post on the Mousse formula foundations which works wonderfully for oily skin and are super easy to use and apply as you don't need any brushes and fingers are the best tolls to apply and blend these foundations formulas seamlessly into the skin.
The Mousse formulations feels light on skin and gives a soft matte finish which makes them perfect for daily wear and if you have fairly clear combination or Oily skin these can easily be your Best Daily wear foundation.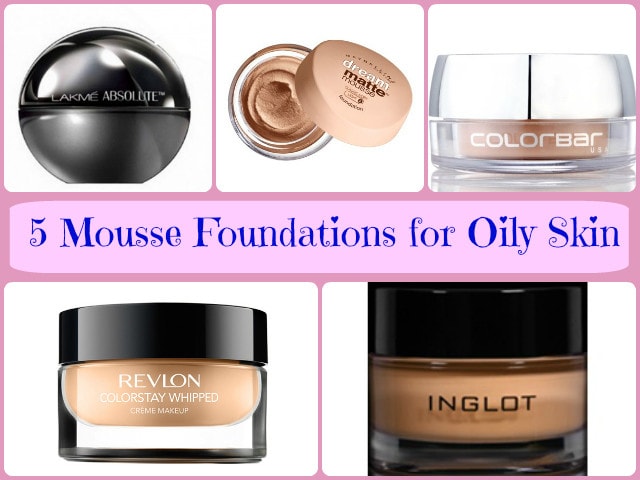 5 Best Mousse Foundations for Oily Skin
Lakme Absolute Mattreal Skin Natural Mousse: It comes in a pretty black sphere packaging. The formula is loaded with silicones and has whipped creamy texture which blends beautifully into the skin and give a smooth, even finish to the skin. It reduces pore appearance, hides fine lines and looks pretty natural on skin which makes it a great daily wear foundation.
Price: Rs 525
SPF: SPF 8
Shades: 3
Finish: Matte
Coverage: Light
Staying: 3-4 hours
Maybelline Dream Matte Mousse Foundation: It also comes in a pot type packaging and has whipped mousse formula which is extremely light on skin and blends effortlessly into the skin. It can be built in layers but still it gives a pretty light and gives a sheer coverage. You will like it if you have fairly smooth and clear skin.
Price: Rs 625
SPF: No
Shades: 5
Finish: Natural Matte
Coverage: Sheer
Staying: 3-4 hours
Colorbar Ultimate Mousse Foundation: It is a creamy mousse foundation in a whipped texture with a velvety finish owing to the huge amount of silicons on the formula. It works both a primer and skin smoother. The coverage is very light so if you have major imperfections dab some concealer.
Price: Rs 725
SPF: No
Shades: 3
Finish: Satin Matte
Coverage: Sheer
Staying: 4-5 hours
Revlon Colorstay Whipped Crème Make Up: It has a thick creamy texture and not exactly like other mousse foundations but it blends with the same ease and doesn't feel heavy on skin. Apply with a light hand and then build it up for more coverage. It settles to natural satin matte finish on skin and covers skin imperfections pretty well. Though, it can settle in pores so use it with a good pore reducing primer if you face such issue.
Price: Rs 875
SPF: 20
Shades: 3
Finish: Natural Matte
Coverage: Medium – Buildable
Staying: 8-10 hours
INGLOT AMC Mousse Foundation: This is one of the most expensive mousse foundation formula but it is free from Parabens and cruelty free. Like all others it also has an air whipped texture which glides like silk on skin and blends quickly. It reduces the appearance of pores and gives a very natural finish . The staying power is impressive and it lasts longer than any of the mousse foundations mentioned above
Price: Rs 1250
SPF: No
Shades: 6
Finish: Natural Matte
Coverage: Light – medium
Staying: 8-10 hours
So, these are the 5 Mousse foundations that quickly sets to a matte finish and works wonderfully with fingers which is best for makeup beginners who don't want to mess around with blending and all.
Don't Miss to Checkout:
Most of the foundation are priced under Rs.1000, and hence they are easily fall into the Best Drugstore foundations for Oily skin or Best Budget friendly foundations for Oily Skin category
PS: There is one more foundation L'Oreal Paris Matte Morphose Foundation which falls in this category but I am not sure if it is still available.
Have you tried any of these foundations? Which is your favorite Formula?