5 Best Cream Blushes In India
Hello Everyone,
In Continuation to my series of finding some of the best and great products available in India.. Today, I am going to share the Cream Blushers.. yes with winters approaching I am shifted more towards the cream products because my dry skin makes it really hard for me to work just with powders. ( Another excuse to do more makeup shopping 😉
Great things about Cream blushers:
They can be applied with fingers on skin in a dabbing motion for an even application.
Layered with powder formula for a more intense look
They enhance the stay of powder blushes on skin
They can also be worn on their own for more of a soft dewy looking flush of color on cheeks.
Few years back we didn't have much of the affordable option in India but now we have a decent amount of products to try and play with. Lets checkout what are all the Affordable Cream Blushes we have in India.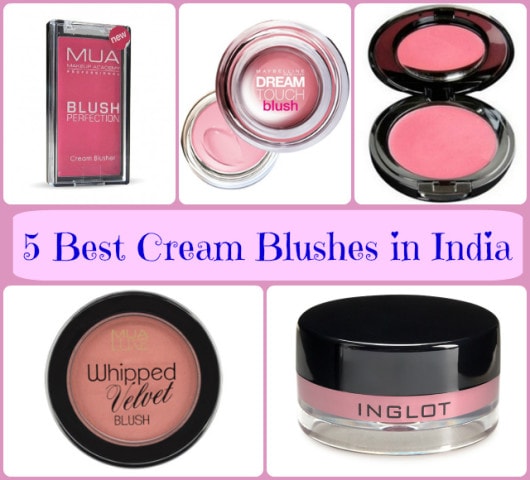 5 Best Cream Blushes In India
1. Maybelline Dream Touch Blush: This is probably the first cream blush from an indian makeup brand. It has sort of a mousse crème formula which sets to a dewy finish. It feels super light on skin gives a subtle shine owing to the tiny shimmers in the formula. It blends beautifully into the skin but the pigmentation is on the lighter side. So, if you ry to build it up you might end up with more shimmers than color.
Price: Rs 400 ( Rs 300 on Nykaa)
Shade: 3
Texture: Mousse
Pigmentation: Sheer
Finish: dewy with shimmery sheen
Staying: 6-7 hours
2. MUA Blush Perfection Cream Blusher: I love how affordable but awesome MUA products are, this cream blush has a cream texture which blends in nicely to give a soft matte finish. It has a good color payoff so you just need a little bit of it. Also, they have a lovely shades ranging from light pink to warm neutrals but sadly only 2 are available here . 🙁
Price: Rs 480 ( Rs 360 on Nykaa)
Shade: 2
Texture: Buttery Creamy
Pigmentation: Medium-Buildable
Finish: Semi-dewy
Staying: 4-5 hours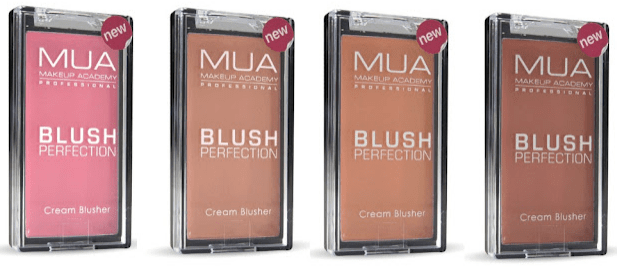 3. Faces Glam On Creme Blush: Faces have launched these crème blushes a while back and I liked that they kept the prices in the affordable range. The formula is decently pigmented and gives me the flexibility to build up the color. It settles to a nice dewy which is great or dry skin. The formula has slight gold shimmers but nothing noticeable.
Price: Rs 449 ( Rs 359 on Nykaa)
Shade: 4
Texture: Mousse
Pigmentation: Medium-buildable
Finish: Dewy
Staying: 4-5 hours
4. INGLOT AMC Cream Blush: INGLOT stuff is kinda pricey but if you consider quality they are pretty good. The cream blush has a whipped creamy texture which blends in beautifully and settles to a nice semi dewy finish and not super shiny or oily like some of the cream blushes.
Price: Rs 750 ( Rs 638 on Nykaa)
Shade: 5
Texture: Whipped cream
Pigmentation: Highly pigmented
Finish: Semi-dewy
Staying: 5-6 hours
5. MUA Luxe Whipped Velvet Blush: These are again from MUA but they are so good that I cant help and add them to the list. These MUA blushes have a whipped crème texture and they feel velvety to touch just as described. It has micro shimmer in the formula to add a little sheen but nothing overboard.  Top them with a powder blush to make them last long or wear with a primer underneath.
Price: Rs 695  ( Rs 521 on Nykaa)
Shade: 5
Texture: Whipped cream
Pigmentation: Medium – Buildable
Finish: Dewy
Staying: 4-5 hours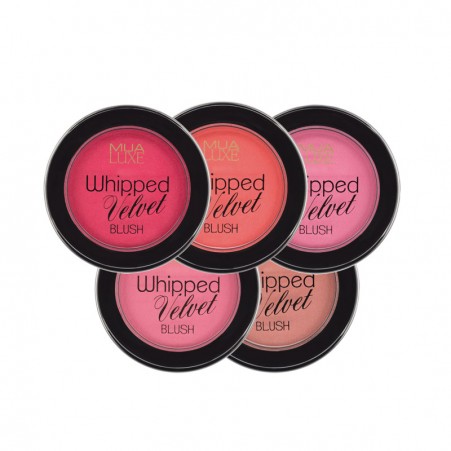 Don't Miss to Checkout:
There are not many of the good quality powder blushes but these few from the affordable drugstore brands are a great option to start with cream blushes. I had one from NYX the NYX Rouge Cream Blush in Glow and it was great but now I don't see many online websites in India carrying NYX so it can be a bit of task to find one.. but try the above mentioned Budget Friendly Cream Blushes in India instead and get similar results.
Have you tried any of these Cream Blushes? Which is your favorite Blush formula Cream Or Powder?