4 Body Lotions to Avoid In Summers
Hey Gorgeous,
I have shared my Best Body Lotions for Summers few days back but while I was compiling that post I came across some body lotions that must be avoided at any cost in Summers because not only have thick and heavy texture. They take hours to get into the skin and will make my skin sweat instantly. The formula is a definite No-No in summers and even for winters I like fast absorbing body lotions or butters as it is not a rule that a highly moisturizing lotion has to be thick and heavy.. 😉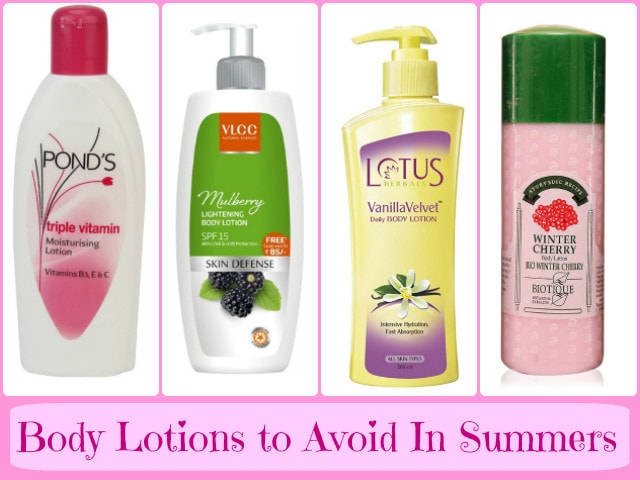 So, lets see what are those..
Body Lotions to Avoid In Summers:
Ponds Triple Whitening Body Lotions: I have been a fan of Ponds body lotions becuase of their pretty pink color and their lovely as a Kid but they were never enough moistursing for me back then. I tried this lotion again few years back and didn't liked anything about it. Now, the pink color was gone and also the lotion had become very thick and heavy which took forever to get absorbed and made me sweaty from head to toe.. A Big No!
VLCC Mulberry Lightening Body Lotion: Somehow, I never feel drawn to this brand. Not sure what it is but VLCC never managed to tempt me to try their stuff but during my recent stay at mom's place I ran out of my body lotion and had no option but to try this from her collection. The lotion was super duper thick and heavy, I almost died to know how greasy it made my skin. No matter what it claims.. Not for me!
Lotus Herbals Vanilla Velvet Body Lotion: I have tried almost every variant of these Lotus Herbals Body Lotions and I can say for sure that they have rich, creamy consistency throughout. Though some variants are richer than the other but in general all of them have rich, creamy and thick texture which takes time to get absorbed and also feels slightly heavy which will definitely suffocate my skin in summers.
Biotique Winter Cherry Body Lotion: Biotique Winter Cherry Body Lotion is a baby pink colored thick creamy lotion with an overwhelming after-shave (musky) fragrance which isn't flattering at all. Though it gets absorbed soon but it is a heavily moisturizing body lotion and definitely not for summers.
Don't Miss to Checkout:
Apart from these any body Lotion which claims to contain Almonds must be avoided in summers are they are usually thick and have a rich moisturizing texture. Go for light, refresh, minty and Aloe Vera in body lotions in Summers.
Have your tried any of these Body Lotions? Which is your not so favorite Summer Body Lotion?