15 Best Karwa Chauth Mehendi Designs
To all you pretty ladies out there; Karwa Chauth is around the corner, an occasion where you get to deck up like a beautiful bride all over again! This festival is my personal favorite because it brings out the beauty of marriage, the purest of all forms, where women fast through the day just for their husbands long life. Very cute, isn't it?
This occasion is even more special for newly wedded women, who dress themselves up no less than brides!  Ladies try to look their ethnic best from top to toe on this day, from jewelry to makeup to outfits! Then why should those hands and feet be left behind? So, stalk your favorite mehendi designers or book a famous one, whatever you prefer and deck those hands and feet up in beautiful henna!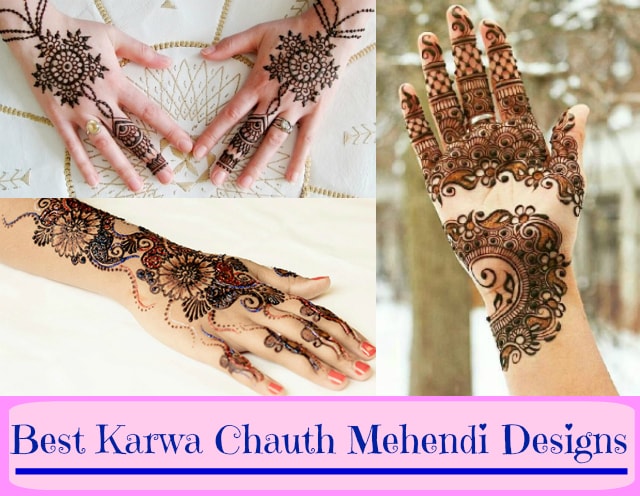 Any occasion is incomplete without that perfect mehendi design that smells heavenly when applied, is crisp while it dries, and looks amazing when it is taken off! If you are confused about the kind of style to choose, let me save you from the last minute rush, with these 15 Best Karwa Chauth mehendi designs.
15 Best Karwa Chauth mehendi designs:
So, ladies, are you all set to dazzle your husband with rich designs, aromatic henna fragrance and deep color this Karwa Chauth?! Try these trending and latest mehendi designs for hands this karwa chauth.
Don't Miss to Checkout:
Choose from the 15 Best Karwa Chauth Mehendi Designs and deck yourself up in a way that your husband cannot take his eyes off you, after all, you need to outstrip that moon!
Mehendi is no longer just for brides, and has become a very important part of the Indian culture, so have fun with it!
Have a happy Karwa Chauth! 🙂
Which style you liked the most from these Trending Heena Designs for Karwa chauth?
Author: Cidra Khan
PS: I do not claim the ownership of images used here