11 Best Colored Eyeliners in India
Hello Beautiful,
Hunting for a good colored eye pencil but couldnt think of one.. well I have the list of Best Colored Eyeliners in India for you!
I love colored eye Liners/ pencils and have quite a lot of them already with me but I jump with excitement whenever I see a new launch and keep dreaming about it until I have it in my possession. Earlier, there were just a few brands like Faces, Lakme and Colorbar who had colored eye liners in their collection but now we have a lot of options to choose from as more and more brands are coming up with their Colored Eye Liner version and find the Best Colored Eyeliners in India.
Today I will be listing the Best Colored Eye Liners/ Eye Pencils from different brands available in India in the drugstore category… ( though some almost the high end prices :P)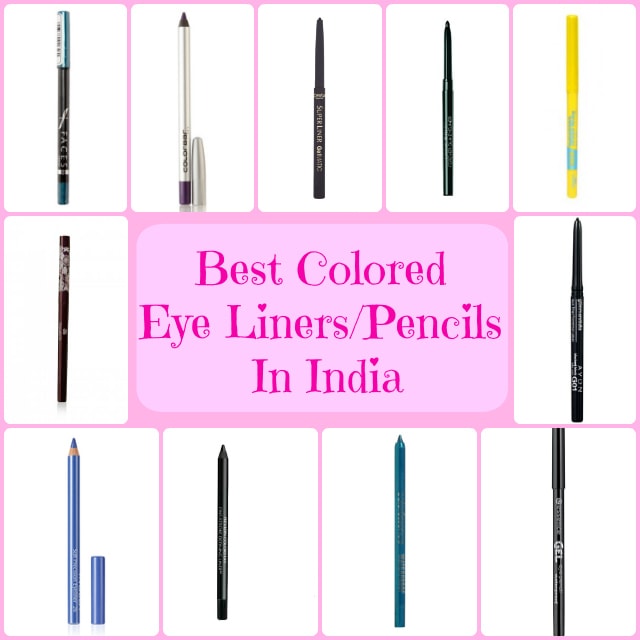 Best Colored Eyeliners/ Pencils in India:
1. Faces Canada Faces Cosmetics Long Wear Eye Pencil ( Rs 449) : Faces Canada Long Wear Eye Pencils are probably the first colored eye pencils I have ever tried. They were quite cheap then but now the prices are hikes but the quality remains good. The have a super creamy texture which glides on beautifully and have an intense color payoff. The formula lasts whole day on eyes with minimum fading. They are smudge-proof, water-proof and long lasting. These are sharpenable pencils so you have to carry a sharpener along as the finish off pretty fast. Definitely one of the Best Colored Eyeliners in India.
Shades Available: Aqua Blue, Forest Green, Dark Green, Solid Brown, Solid Black, Metal Brown, Navy Blue, Turquoise Blue, Purple
2. Colorbar Colorbar I Glide Pencils (Rs 450 ): The only other colored eye pencils that were available apart from faces 4-5 years ago were these Colorbar Colorbar I Glide Pencils. These are definitely one of the Best colored eye pencils available in India. These are sharpenable pencils and have the creamy smooth texture with intense color payoff.. It has everything that you can expect from a colored eye pencil and they come in 15 staggering shades!
Shades Available: Jade, Prunella, Elctra, Flirty Turq, Coal Mine, Jaded, Emerald Charm, Amethyst Spark and more
Colorbar Just Smoky Eye Pencil (Rs 650) : Colorbar has come up with another version of colored eye pencils with Colorbar Just Smoky Eye Pencil collection which has a smudger tip at the end. The pencils are again creamy, pigmented and long lasting but have limited shades.
3. L'Oreal Paris Superliner Gelmatic Eyeliner (Rs. 450) – L'Oreal Paris has for the first time came up with these colored eye liners. These are retractable Eye Pencils with a gel liner like formula for a smooth and easy application. The color off is intense and one just needs 1-2 strokes to get full opacity. The formula is smudge proof and lasts whole day.
Shades Available: Glamor Gold, Deep Brown, Turquoise, Silver Mania, Blue Force
4. Lakme Absolute Forever Silk ( Rs 405) : Lakme has these twist up pencils since long and I tried two of these Lakme Glide On Eye Color in Electric Violet and Gypsy Green. They have soft, creamy texture which glides on smoothly and give an intense color in a single stroke application. They have a shimmery finish but the shimmers are smooth and give a metallic shine to the liner.
Shades available: Jaded Mint, Electric Violet, Blacklast, Blue Cosmic
Lakme Eyeconic Kajal (Rs 220): Other than that Lakme also has few shades in the affordable Lakme Eye conic range. They have a retractable packaging and have a creamy texture with good color payofff but they do have slight waxy feel to them.

Shades Available: Royal Blue, Regal Green, Blue, Turquoise, Grey,Brown, Black

Lakme Absolute Precision Artist Eye Liner (Rs 680): Also Lakme has recently come up with their Absolute Precision Artist Eye Liner range with a twist-up retractable liner with precision grip and includes 3 metallic shades.

Shades Available: Emerald Green, Blue Sapphire and Burnished Brown
5. Maybelline The Colossal Kohl Kajal (Rs. 249): Maybelline Colossal Kohl Kajal has smooth texture which glides effortlessly onto eyes. It comes in a retractable packaging which makes it pretty easy to use. Only Smoked silver seems to have pigmentation issues as rest of the shades are beautifully pigmented and last whole day on lids.
Shades Available: Smoked Silver, Jewelled Jade, Crushed Emerald, Black, Turquoise
Maybelline Vivid & Smooth Eye Liner Pencil (Rs. 299): Maybelline also has this range of Maybelline Eyestudio Vivid and Smooth Eye Liners which have a beautiful texture. They glide on smoothly and give good color payoff with a decent staying power.

Shades Available: Bordeaux Pearl, Olive, Forest Green, Lavender Pearl, Peacock Green, Ocean Blue

Maybelline Color Show Eye Liner ( RS 325): Maybelline has one more range of colored liners and that is Maybelline Color Show Eye Liners. They come in black retractable pencil forms with color coded caps. They have metallic finish but some shades have pigmentation issues. Available in four different shades.

Shades Available: Shiny Beige, Noble Purple, Ocean Blue & Peacock Green
6. Chambor Dazzle Eye Pencil (Rs 595) :Chambor Dazzle Eye Pencil has amazingly soft texture and sets quickly to a fabulous creamy finish which wouldn't budge and lasts whole day on me. The formula is fantastic and glides smoothly on eyes but the liner falls on the luxury side and is a bit heavy on pocket for the small quantity it comes with. Also like Lakem Silk forever it has a twist up mechanism only.
Shades available: Black Dazzle, Teal Dazzle, Grey Dazzle, Jade Dazzle, Purple Dazzle, Brown Dazzle, Blue Dazzle
The are few more liners in the brand like Chambor Eye Tattoo Liner, Chambor Stay On Waterproof Eye Liner but I am not able to find them online. Though you can find these at Chambor counters.
6. Inglot Soft Precision Eyeliner ( Rs 750) -Inglot Soft Precision Eyeliner is a sharpenable pencil liner with a color coded packaging. The fomrula is smooth and creamy and glides on beautifully. The color pay off is rich too and they are made in Germany so you can be sure of the quality. The only disappointing thing is they dont have names but just the numbers like all other Inglot products.
Available in 17 shades.
INGLOT AMC Eyeliner ( Rs 700- 950): Inglot has few other ranges of eye liners as well and one of these is this

INGLOT AMC Eyeliner which has 4 shades in the collection

INGLOT Full Metal Eyeliner (Rs 1060): These are quite pricey but if you are looking for some beautiful metallic finish eye liners then these INGLOT Full Metal Eyeliner could be a great pick. Available in 6 shades
7. Coloressence Eye Liner Pencil (Rs 225): Coloressence Eye Liner Pencil is sharepnable pencil which comes with a sharpener. It has a creamy smoothe texture which doesnt tug on lids and gives an even application. The color payoff is surprisingly great which makes it a great pick. The formula lasts pretty well on lids though not whole day.
Shades Available: Peacock Blue, Dark Blue, Dark Green, Green Dream
8. Revlon Colorstay One Stroke Eyeliner Pencil (Rs 615) : Revlon Colorstay One Stroke Eyeliner Pencil is a sharpenable Pencil with a soft, creamy texture and rich coloring pigments which makes it easy to apply even on the inner rim of the eye for a bold and stunning look.It is a water-proof and smudge-proof formula.
Shades Available: Blackest Black, Blooming Blue, Glazed Green, Totally Turquoise
Revlon Colorstay Eye Liner (Rs 575): Revlon has this range of Revlon Colorstay Eye Liner which comes in retractable packaging. Revlon ColorStay Eyeliner gives precise and smooth application. It is waterproof and smudge proof formula which lasts whole day on lids

Shades Available: Black ( Not sure if we have more in this range)
9. Ikonic Gel Eyeliner Pencils (Rs 250 ): Ikonic Gel Eyeliner Pencils are extremely creamy and glides on like butter. These are one of the creamiest eye pencils so they finish up soon and needs to sharpen often. The formula extremely pigmented and show up easily on dark lids. smudge and waterproof. The range has a mix of matte and shimmer shades but these can only be bought from Beauty Centre Mumbai and if you have sensitive eyes better skip these as that can irritate them.
Shades Available: Black, Olive Shimmer, Navy, Midnight, Black Spark, Violet Gem
10. Avon Glimmersticks Eye Liners (Rs 329): I know Avon product are hard to buy and you have to look for an AVON representative but if you have access to them you must try these Avon Glimmersticks eye liners. They come in retractable pencil packaging and have a beautiful texture and formula which lasts whole day. They often go on discounts so you can get a great deal.
Shades Available: Blackest Black, Emerald Glow, Starry Night Blue, Textured Teal, Twilight Sparkle
Avon Glimmersticks Diamond Eye Liners: After Glimmersticks Avon came up with these Avon Glimmersticks Diamond Eye Liners which are the shimmery version of the eye liners with the same formula. Pick the one that suits you best.
11. Essence Gel Eye pencil (Rs. 299): Essence Gel Eye pencil comes in retractable pencil packaging with color coded cap. The formula is immensely pigmented and has a soft and smooth texture that gives an easy application and goes opaque in 2 swipes. The liner quickly sets to a transfer-proof smudge-proof finish which lasts whole day on me with slight fading a wee bit of transfer when used on lower lash line. The liner has impressed with it quality at the price tag. It doesn't have any waxy feel. They also qualify to be rated among the top Best Colored Eyeliners in India.
Shades Available: Black Blaze, Around Midnight, Urban Jungle, Blue Lagoon, Gunmetal, Cocoa Bean
There are few more eye liner ranges in Essence but like Essence Long Lasting Eye Pencil, Essence Kajal Pencil but you can only find them at few places in India. Here is the List of Places to Buy Essence Products.
I also would like to mention "Krylon" here. Krylon also has its range of eye pencils which are Krylon Professional makeup Face Eye Liners but I am not sure how many shades they have and the hows the formula. Krylon can only be bought in stores and they have just a few here in India so getting Krylon stuff is always a task.
Pheww.. such a long list of eye liners! I cant tell how much I am tempted to order the liners I havent tried yet.. sometimes these compilation posts wake up the inner makeup monster in me :P…
Hope you like this post and find it helpful to pick the Best colored eye Liner for yourself.
Have you tried any of the Colored Eye Pencils/Eye Liners? Which is your favorite Eye Liner/Pencil brand