10 Makeup Brush Brands in India 
Hello Everyone,
If you are here with me reading this blog post than whether you agree or not you love "Makeup" 🙂 and I feel the makeup tools are as important as the makeup products we buy but we usually tend to ignore their importance in makeup application. The major factor is that we don't want to spend much on makeup tools as we are unaware of how helpful they could be and another thing that I feel is Indian makeup brands doesn't pay much attention to Makeup Tools.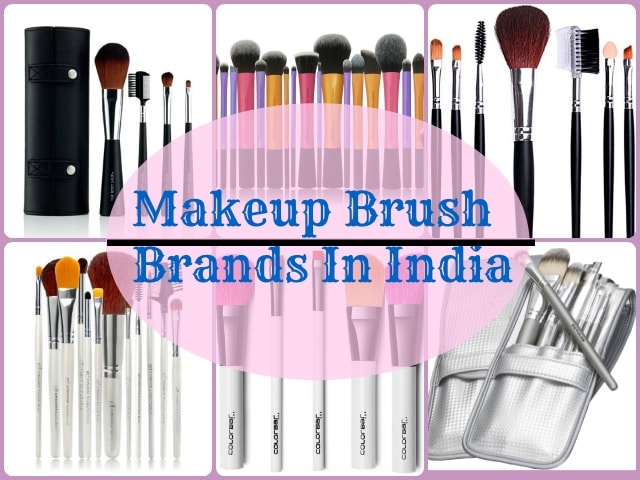 I always feel we don't have enough makeup brands that offer good quality brushes at affordable price and while doing this research I made this list of all the brands that are offer makeup brushes. Now see yourself and choose the ones that fit your budget and quality expectations.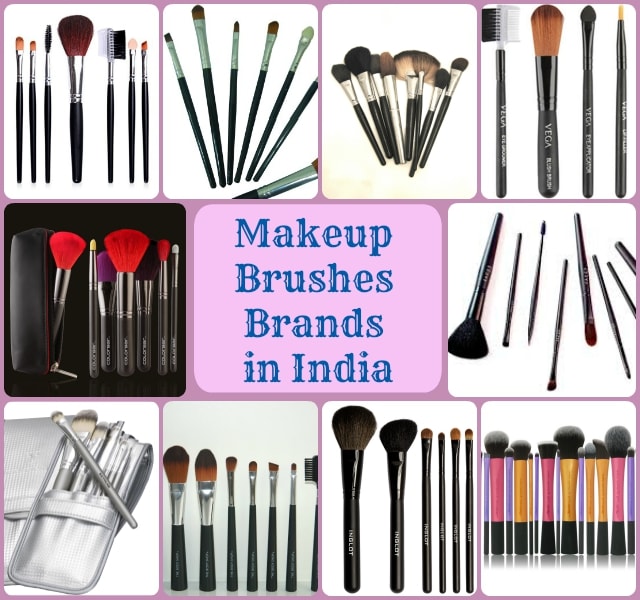 Makeup Brush Brands in India:
Bare Essentials Makeup Brushes (Rs. 430): I have barely heard of this brand Basicare. I guess it mostly produce personal care products and tool but it also has a small set of makeup brushes. The set is super cheap and has a mix of face and eye makeup brushes but I don't feel it will of any use. The bristle quality is below average also there is no specific brush for concealer, powder and eye shadow blending. Frankly, I wont advice anyone to buy this kit.
Basicare Makeup Brushes: Bare Essentials provides a small range of makeup brushes. The brushes are easily available online on Koovs and Nykaa. All the brushes are priced somewhere around Rs. 150- Rs. 300 so that is super affordable. The quality of the brushes also looks slightly better but don't expect them to be soft on skin as they are made with natural bristles.
Oriflame Makeup Brushes: Oriflame is another brand which offers affordable makeup brushes. Though you can buy it only through Oriflame representative but some of the online stores also stock oriflamme stuff. The range of brushes is quite good but again quality wise it is just average. The bristles again are not as soft as you would want and there are issues of shedding as well during application as well as while washing.
Vega Professional Makeup Brushes: Vega offer two range of brushes one is normal which is cheap but quite pathetic so better stay away from it and other is the Makeup Professional Brushes with PB in the names which is a lot better from the former one. The range of brushes is quite extensive as it is a professional one but the availability could be an issue. Vega Professional Makeup Brushes are also affordably priced with all the brushes somewhere between RS 250 – Rs 500.
Colorbar Makeup Brushes: Colorbar has launched some gorgeous brushes last year with pink and purple bristle which were an instant hit but damn the quality was not at par as they were quite scratchy and shed a lot. Colorbar also has Pro Makeup Brushes range which is slightly pricier than their normal range but quality wise they speak for themselves. Colorbar Pro Makeup Brush range include both eye makeup and face brushes prices around Rs 450 – Rs.100 for most of them.
Faces Makeup Brushes: Faces Canada has also some of the Makeup Brushes in its makeup collection which includes face and eye makeup brushes. There are some basic foundation, concealer and powder brushes along with few eye makeup ones. I have been using their eye shadow brush since years and I still love it. Great quality and super easy on pocket. The brushes cost less than Rs. 500 so Yayy!!
Krylon Makeup Brushes: Krylon is a professional makeup brand with lots of awesome stuff to its name but it stays unexplored because it is so difficult to find Krylon stores. There are only few selected stores in India and no online presence which makes it hard for us to buy products from them. Nevertheless, Krylon offers a wide range of makeup brushes with nice quality and affordable price. Most of their brushes are priced below Rs 1000 so yes now you can enjoy premium quality brushes without burning a hole in your pocket. Myonly complaint is they use natural hair for their brushes so some may find them scratchy and might not like the feel of natural hair on their face.
The Body Shop Makeup Brushes: The Body Shop, yes you read it right! Apart from making delicious body care products The Body Shop also has a range of makeup products and that includes brushes as well. The brushes include both face and eye makeup brushes but the collection is quite limited. I won't term them as affordable but they are not expensive either and you can steal the deal by grabbing these under offers and discounts. The price range is between Rs 500 – Rs 1500
INGLOT Makeup Brushes: Like Krylon finding an INGLOT store is also a task and also there are not many online stores that stock INGLOT but good news is Nykaa has started stocking INGLOT products, so yes now you can buy your favprite stuff from there. INGLOT is a makeup only brand and I just love their eye shadows. I am yet to try INGLOT brushes but I have heard that some of them are as good as MAC ones so yes you can expect great quality but not that you don't have to pay for it as they are pricier than the rest. The price range is Rs 650 – RS 2500

Real Techniques Makeup Brushes – Real Techniques is essentially not an Indian makeup brand nor it is stocked by any of the stores but they are stocked by so many online stores (like Luxola, Amazon, Iherb and many more) that you can literally buy them from anywhere. The brush quality is phenomenal with super soft bristles and absolutely no shedding. Real Techniques exclusively offers brushes only so you can find any brush you are looking for and also they are quite affordable especially for the quality of brushes they provide.
Luxury Bonus 😀
MAC Makeup Brushes: I will be killed by MAC lovers if I don't list the brand here. Well, MAC as you all know offers everything you will need to do you makeup. MAC brushes are one of the most raved about brushes as the they are of supreme quality brushes which lasts you a lifetime but speaking of the prices you might be left heartbroken because even the smallest of the eye brush would cost you around 1k. I have everything good to say about their brushes, so if you can afford to buy MAC then that's it! 😀
There are more like Sephora, Estee Launder, Chanel, Clinique, Bobbi Brown where you can buy makeup brushes but all these are all luxury ones which not all of us can afford :P.
I could only find these Makeup brushes options in India that falls in affordable category. So, as you can see there is so much scope here for quality makeup brushes in drugstore brands, I wish they comes up more and more brushes in coming years.
 Don't Miss to Checkout:
I will suggest to go for Real techniques, Krylon, Faces and Colorbar Pro brushes for beginners as they are affordably priced but great quality but if you can spend more pick MAC and Inglot!
Hope you find this post helpful! Share your feedback in Comments.