10 Best Under Eye creams In India
We might have a beautiful radiant skin, glossy bouncy hair but even the slightest of dullness and darkness around the eye area will feel disastrous and murder the happy emotions we had for our skin which in turn would deepen the monstrous dark circles under the eyes.
"Eyes are the windows to the soul" and I would love to keep the windows Eyes in top notch condition, perfectly clean, bright and beaming radiance. Blame our busy lifestyles, stressful working conditions which gets quickly reflected in the eyes (under the eyes) and most of us suffer from these pesky dark circles in varying intensities. There are lots of homemade recipes to prevent and cure the situation but who has the time 😛 .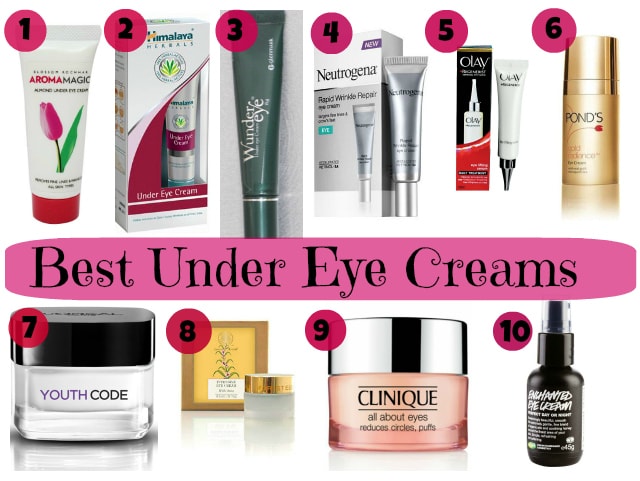 So, let get our under eye skin be rescued by a decent eye cream which can undo all that collateral damage. Eye creams are specially formulated for the area around the eyes and should be applied with light hands .
Here are some best under eye creams in India that are attested by many for delivering quality results:
Aroma Magic Almond Under Eye Cream ( Rs 135) – It would be the first ever eye creams most of us must have used. Pocket friendly price, easy availability and remarkable results are the main reasons behind the popularity
Himalaya Herbals Under Eye Cream ( Rs. 165) – Another affordable solution for nasty dark circles. Himalaya products doesnt work best on me, so I am a little skeptical but many have professed its effectiveness.
Wunder Under Eye Cream (Rs 519) – Little pricey but its formula proves to be quite effective. It is a medicated product and will be available in all the leading chemists/ pharmacies.
Neutrogena Rapid Wrinkle Under Eye cream ( Rs 549)- It claims to soften fine lines and wrinkles with its accelerated Retinol formula but it might not work for some who are allergic to Retinol.
Olay Regenerist Eye Revitalising Serum ( Rs 872): It has a light weight texture which gets absorbed fast and hydrated the under eye area. It works best under makeup but without compromising on the potency.
L'Oreal Paris Youth Code Rejuvenating Anti-Wrinkle Eye Cream (Rs899) : It has a metal tip applicator which gives a nice cooling effect under the eyes and keeps puffiness at bay. It make skin soft and hydrated all day long but not much of a difference in dark circles and wrinkle reduction.
Ponds Gold Radiance Youth Reviving Eye Cream ( Rs. 599) It is infused with real gold micro-particle which helps to visibly minimize the appearance of fine lines, wrinkles. It refreshes and brightens tired eyes by smoothing crows feet around eyes but not very effective if your problem area is dark circles.
Forest Essentials Intensive Under Eye Cream With Anise (Rs.1575) – It is made of purest form of natural ingredients which does magic to under eye area. A little heavy on pocket but its worth every penny. It's not greasy or sticky and absorbs well into my skin. I have noticed a visible difference in my skin around the eyes.
Clinique All About Eyes ( Rs. 2200) – Expensive for an eye cream but has worked effectively on reducing pigmentation and making the under eye area is cleaner and brighter .
Lush Enchanted Eye Cream (Rs. 1310 for 45gms) -It uses cold pressed almond oil and has high vitamin E content, perfect for the delicate under eye area. It has received accolades from everyone round the globe for its excellent results but sadly, Lush has shut down in India and we have to get it from somewhere from UK or US. 🙁
These are some of the eye creams which will help moisturise and firm the under eye area making the skin appear smoother, brighter and healthier. Dark circles around the eyes can develop due to hereditary factors, lack of sleep, illness, stress or nutritional deficiencies so along with eye creams, it is advisable to take nutritious and balanced diet and drink lots of water.
Don't Miss to Checkout:
Quick Tip: Wash your eyes with warm water and follow this with cold water. This improves blood circulation and soothes them.
Do you use an under eye cream on a regular basis? Which is your favorite Under eye cream?