10 Best Herbal Skincare Brands in India
I have already shared a list of natural skincare brands in India which are actually made in India. Today, I am taking it further by sharing all the Best Herbal Skincare Brands in India which are easily available. It feels really good to see many of Herbal, Ayurvedic brands in India which provides good quality products to help us take care of our skin in the most natural way.
Slowly and Slowly I am shifting to herbal Skincare products because that way I do favor to my skin by not harming it with chemicals. The products don't contain any harmful chemicals or preservatives like Parabens, Fillers, Sulphates, Mineral Oil etc. which means I will be using nothing but the best on the skin.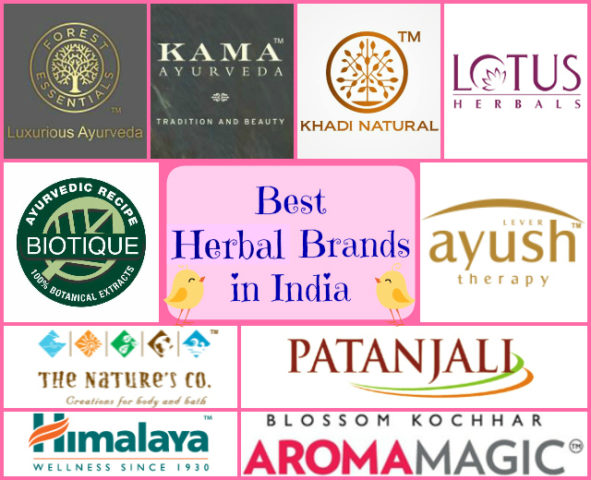 These Herbal brands does fusion between ancient Ayurvedic recipes and modern technology to create a whole new experience. So, lets checkout what all brands made it to my Best Herbal Brands in India:
Best Herbal Skincare Brands in India
1.Forest Essentials: Forest Essentials is an authentic, traditional Skin Care Brand which works on ancient science of Ayurveda. Forest Essentials make natural products in Facial Care, Body Care, Hair Care and Wellness category. Each handmade product uses traditional methods in its making and adheres to the highest standards of purity, authenticity and quality. The organic products are definitely expensive but the quality is so damn good. Forest Essentials Eye Cream is the only eye cream that worked on Dark circles. Their Facial cleanser and Facial Mists are quite popular skincare products too.
2. Kama Ayurveda: Kama Ayurveda is the authentic Ayurveda brand which creates the complete natural remedy. Their treatments are 100% natural and use plant-based ingredients which means – No artificial colours. No artificial fragrance. No animal ingredients. No petrochemicals, parabens, urea, propylene glycol or sulphates. not tested on animals. Kama Ayurveda Soap Free Cleanser is great and I also love its Rose Facial Mist. The most raved about skin care products from the brand are its Oils like Bringadi Oil, KumKumadi Tailam.
3. The Nature's Co: The Nature's Co products contain natural ingredients that are against animal cruelty, vegan and of best quality from across the globe. They explore the five purest forms of nature with five distinct ranges Atmospure, Starrize, Foressence, Earthborne and Aquaspark based on five elements. I liked their Vanilla Vitamin E Cream but want to explore more natural skin care products from this brand. Again, I wish they show their full ingredients on the products
4. Khadi Natural: Khadi Natural is one of the most extensive skin care brand of all. Their products can be bought from Khadi Gramodyog Bhawan stores in Delhi and UP. They provide natural, Ayurvedic, handmade products by employing Village people and hence generating employment for them. I have tried their Glycerine Soaps and loved them totally. Their face packs and oils are good. Will try them next. The organic products are affordable and easily available too. But they mention only Key Ingredients on the packaging which is slightly bothering.
5. Lotus Herbals: Lotus Herbals is one of the most renowned herbal cosmetic brands of India. They believe in utilizing herbal ingredients instead of chemical-based, synthetic and cruel animal tested stuff. Their skin care products contain a combination of extracts of different herbs to protect, heal and enhance the face, body and hair. Lotus Herbals Alpha Moist Moisturizer is the best, I love their Lemon pure cleanser, 3 in 1 Matte Sunblock and was also a die-hard fan of Nail Paints. A great brand to try Natural beauty products.
6. Biotique: Biotique promises of naturally-derived Ayurvedic beauty, advanced by scientific expertise. . With 100% natural botanicals. No chemicals. No preservatives. No animal testing. Packed in eco-friendly and recyclable packaging. Dermatologist Tested For Safety. Biotique treatments do not cover up problems—they eliminate them. I have tried a few from Biotique but my favorite skin care product is their Old Papaya Scrub and the new Biotique Tan Removal Papaya Face Scrub. Biotique toner is a popular toner for oily skin.
7. Aroma Magic: Aroma Magic products are aromatherapy based so they work from inside and out. These are carefully blended and combined in precise quantities so that they are fresh, original and healing. The products are free of Parabens, Alcohol, Mineral Oils, Harsh Chemicals, Synthetic Colours and Artificial Fragrances, Petrochemicals, Phthalates and Animal Testing. I have used Aroma Magic Aromatic Toner and it was good. Their face packs and face scrubs are good too. But they don't mention complete ingredients list which is slightly bothering.
8. Himalaya Herbals: Himalaya Herbals philosophy is to develop a range of personal care products rooted in Ayurveda and backed by research. Himalaya Herbals skincare range is very well received by Oily Skinned girls. Though their products doesn't work well on my dry skin but my sisters with oily skin swear by them!
9. Lever Ayush Therapy: Lever Ayush Therapy is fairly new but it uses premium quality ingredients that offer effective treatment to problems born out of modern lifestyle. It helps rediscover everyday health and vitality with simple Ayurvedic Solutions. The products are based on the principles of three Doshas-Vata , Pitta, Kapha. I love their Dandruff Naashak Shamoo, so good and effective. I want to try the Ayurvedic Oils from the brand.
10. Divya Patanjali: The list wouldn't have been complete without mentioning Divya Patanjali Products. The brand promoted by Yoga Guru Baba Ramdev and is one of the most sought after skin care brand in India. The products are made with natural herbs and Ayurvedic formulations which improves Skin texture. I did a Patajali Products Haul and Review sharing my experience with the products. I loved their Dnt Kanti Paste but was not much satisfied with Patanjali Aloe Vera Gel, Patanjali Kesh Kanti oil but Patanjali Kesh Kanti shampoo is the worst.
Overall
So, this is my list of 10 Best Herbal Skincare Brands in India which are easily available and have a large range of products to offer. With, premium quality ingredients to protect skin from damage.
I love my skin and that's why I pick nothing but the best. Using herbal products have long term benefits and also pamper it and keeping it healthy and nourished.
Don't Miss to Checkout:
Have you tried any of these Best Herbal Skincare Brands in India? Which is your favorite skincare brand?