10 Best Glitter Nail Polish In India
Whether you are addicted to makeup or not, one thing you can't run away from is "Nail Polishes". There was a time when we had limited option and majorly only Lakme Nail Polishes to pick from. But now we have so many affordable drugstore brands for Nail Polishes with a huge selection of shades and texture.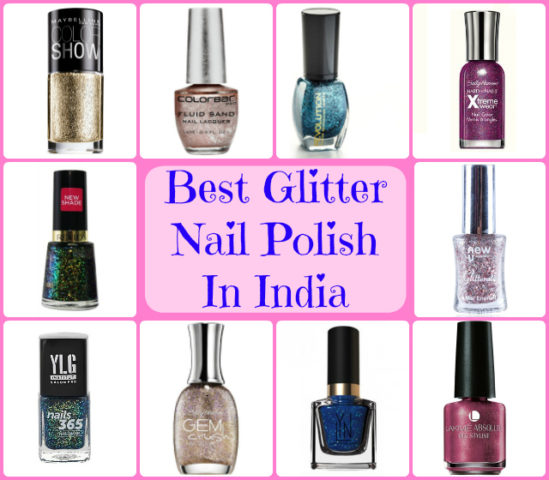 I absolutely love cream finish in nail polishes but when I want to have something extra, I go for Glitter Nail Polishes. I can't think of Glitter Nail Polishes being so easily available in India until after Maybelline came up with Glitter Mania Nail Polish Collection. Undoubtedly, the collection was an instant hit. But, since then many brands have come Glitter Nail Polishes. So , today I am compiling this post to share 10 Best Glitter Nail Polish In India: Prices and Buy Online with you.
10 Best Glitter Nail Polish In India
1.Maybelline Color Show Glitter Mania Nail Lacquer: RS 175 for 6ml – I couldn't have started with anything else because these Maybelline Color Show Glitterati nail polishes are the first thing that comes to my mind when I think of glitter nails. Maybelline introduced India's first-ever textured nail paint, the Color Show Glitter Mania range , which is every nail-art lover's dream! When applied, these sparkling nail colors deliver a 3D shimmering effect, adding oodles of style to your tips. They also have a unique sand-textured effect that looks and feels great on your nails. With 8 glittering nail color shades to choose from, you're sure to find the perfect shade for every mood. The formula is Easy to apply and dries quickly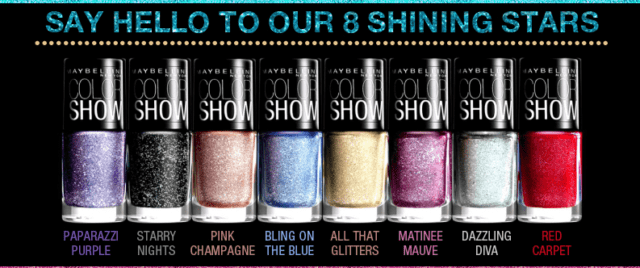 Comes in 8 trendy, glittering shades:  All That Glitters, Red Carpet, Pink Champagne, Dazzling Diva, Matinee, Mauve, Bling On The Blue, Paparazzi Purple, Staryy Nights
2.Colorbar Fluid Sand Nail Lacquer: (Rs 499 for 15ml) :  Colorbar Fluid Sand Nail Lacquer is another amazing collection of Glitter nail polish. They steal the show with flirty and festive glitter nail paints this season. Colorbar Glitterati top coat is definitely the perfect way to update your party dress this season. This sizzling palette promises to strike a chord with every woman. This unique look has hit Indian shores with a trendy selection of colours that bring alive the sand texture in a unique three dimensional pattern on your nails, through a beautiful range of 8 exciting shades. It has Three-free formula – DBP, Formaldehyde and Toluene Free formula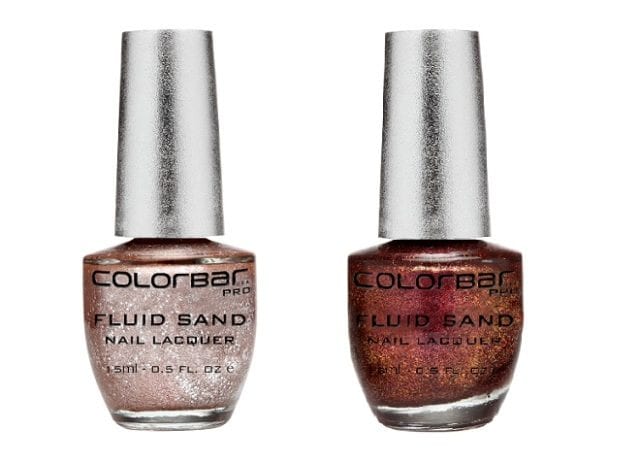 Available in Glimmering 8 shades: Love Boat, Moon Struck, First Date, Wedding Affair, Rose Day, The Proposal, Won't Let Go, Stay With Me
3. Makeup Revolution Glitter Nail Polish: Rs 250 for 10 ml –  Makeup Revolution Glitter Nail Polish were quite a surprise as I didn't knew they existed and have such a beautiful collection of shades. These Glitter Nal Polishes will make the nails sparkle with some glitter. They can be used either all over, on top of a regular nail polish or as an accent nail. Though, it's beat to follow with a top coat to seal in the shine and glitters.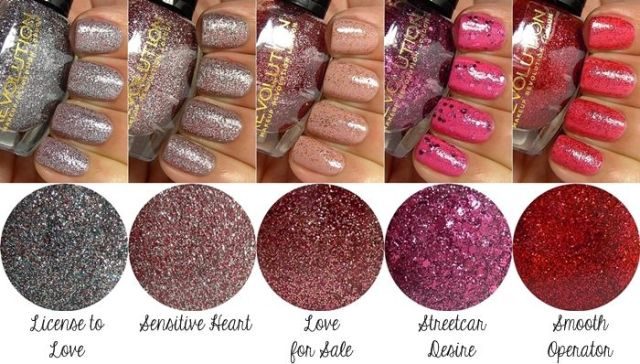 Available in 9 Shades: Eyes Like angels, His Heart is Gold, License To Love, Sensitive Heart, Love for Sale, Smooth Operator, Streetcar Desire, Diamond Life , Love Boy
4. Revlon Glitzy Nights Nail Enamel: Rs 335 for 8ml: Revlon Glitzy Nights Nail Enamel collection brings that set the mood for the festivals. The collection is Inspired from the festive season. So, go embrace the wonderful world of glitters with Revlon glitzy nights nail enamel. These nail enamels are free of DBP, toluene and formaldehyde. These nail enamels provide gorgeously smooth, chip resistant color to nails which is perfect for party wear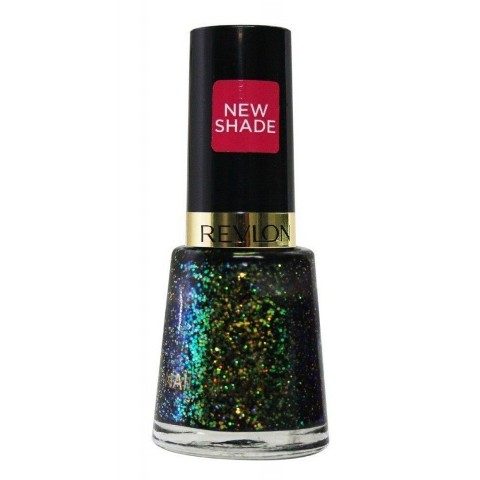 Available in 7 Shades: Super Star, Splendor, Sparkle, Splash, Dazzle, Glamour Twinkle, Glaze
5. Sally Hansen Hard As Nails Xtreme Wear Nail Color: Rs 575 for 12ml : Sally Hansen Hard As Nails Xtreme Wear Nail Color offers xtreme shine and protection. The collection has a staggering 30 shades with a mix of crème and glitter finishes. So, now you can match your manicure to your mood with fun, trendy shades. The easy grip, easy glide brush is designed for complete control. I absolutely love the formula of these nail paints.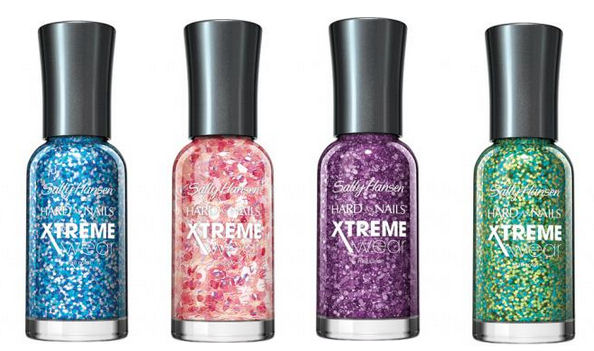 Available in 10 Shades: Disco Ball, Rockstar Pink, Strobe Light , in the Spotlight, Ivy Legue, Jam Packed, Shine On, Pixel Perfect , Blue Boom, Bold Gold, Sea-ing Stars
6. NewU Nail Enamel Glitterati: Rs 75 for 5ml : NewU Nail Enamel Glitterati collection has some beautiful shades. These are definitely the most affordable glitter polish in India. Now, Celebrate those lazy, hazy, crazy days with a special pack of newU nail enamels, perfectly sized to stash in your purse. The high-quality formula comes in the season's hottest on-trent fashion colors. They are easy to apply, easy to remove, gentle on nails and available in variety of beautiful colors.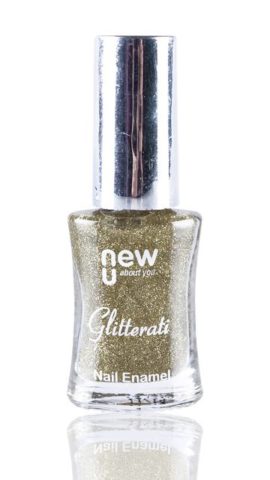 Available in 6 Shades – Pink Saphhire, Gold Dust, Pearl Crush, Autumn Glow, Rose Quartz, Icy  Cool
7. YLG Nails 365 Shot To The Heart Nail Art Glitter Paint: Rs 249 for 9ml : YLG Nails 365Nail paints are easily available on Amazon. They come in a squarish bottle with black cap. They have a huge collection of shades and finishes. A great budget –friendly option to do glitter nails.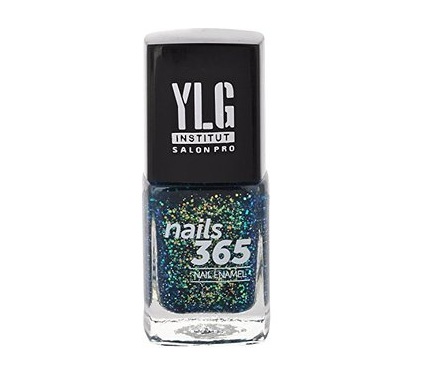 Available in 11 Shades: Where's the Party Tonight, Jewels for the queen, Silver Curves, Stars in my Universe, High on Life, Ohh Baby Baby!, Itsy Bitsy Polka Dot Bikni, Your's polka not my polka, Chrome-O-Some, Runway Glory , Bottle Full of diamonds
8. Sally Hansen Gem Crush Nail Color: Rs 450 for 9ml –(Buy from Nykaa): Make your nails the new jewelry with Sally Hansen Gem Crush Nail Color. The formula is enriched with Full-coverage formula it creates a thick blanket of rich color on your nails.Wear this awesome nail paint which has multi color reflectivity. It glides over your nails quickly and emits beautiful glittering shine.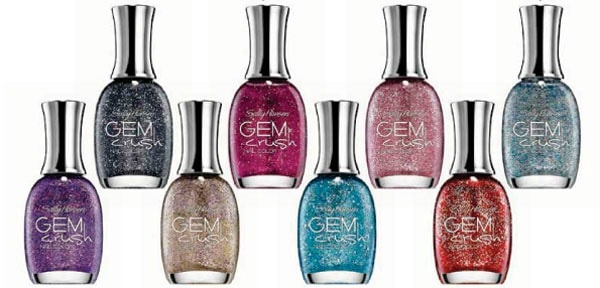 Available in 2 Shades : Showgirl Chic, Big Money
9. LYN Sugar Rush Nail Polish: Rs 350 for 12 ml (Buy from Purplle.com ): LYN Sugar Rush Nail Polish collection has a beautiful selection of shades. LYN ( Live Your Now) is a salon nail polish brand and have a huge collection of shades and finishes. I hve tried a few of the nail paints from the brand and they are absolutely gorgeous.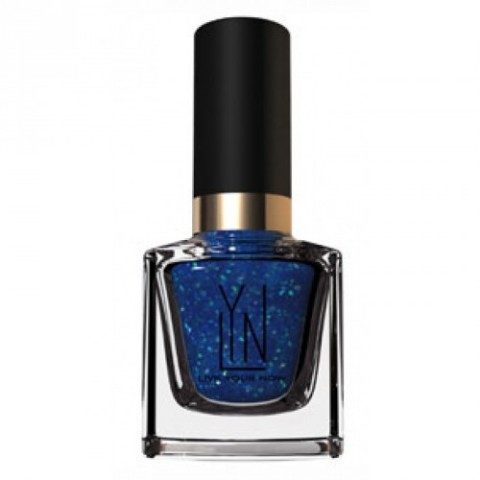 Available in 9 Shades: Candy is Dandy, Purple Pleaser, Mauve the Merrier, Green with no Envy, I 'm Peachless, Goldzilla, Blue Blaze Blizzard, A thing for Bling, Bitter With Out
10. Lakmé Absolute Gel Stylist (Illuminate) Nail Polish: Rs 360 for 15ml- : Lakmé Absolute Gel Stylist Illuminate is a brand new range of 10 scintillating shimmer-laden shades of nail color, Lakmé Absolute Gel Stylist gives your nails a lustrous texture and finish. A precious look for every occasion! This season is all about Illuminating, so don't let your nails feel left out!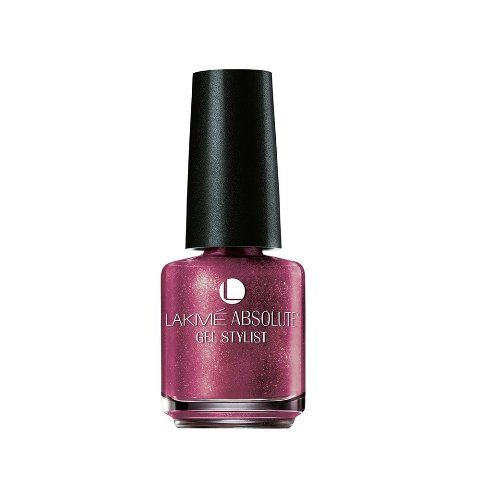 Available in 10 shades: Gold Glaze, Silver Glimmer, Bronze Shine, Scarlet Glitz, Bugundy Blast, Pink Diamond, Ivory Dust, Red Metal, Spring Papaya, Fuchsia Twinkle, Amethyst
So, that concludes my list of 10 Best Glitter Nail Polish In India along with their Prices and places to buy Online. Glitter Nails looks absolutely gorgeous and instantly amps up any look. I love the vibrant shine and shimmers on nails.  And now that we have so many options to choose that perfect glitter nail polish and get a gorgeous Glitter nail art, don't wait!
Don't Miss to Checkout:
Out of all these I have tried Maybelline Color Show Glitterati range and Sally Hansen Xtreme Hard as nails collection and both are equally awesome. Cant wait to try the rest especially Revlon Nail Polishes and Lakme Nail Polishes, both looks so tempting!
Have you tried any of the Nail Polishes? Which is your favorite Glitter Nail Polish?