Best Anti-Ageing Facial Serums In India
PS: I have created an updated list of Anti-Aging Facial Serums 2018, do checkout if you are looking for one to help your skin look young and flawless
Summers are almost here and I have already packed those heavy moisturizers for next winters but my dry skin still needs some moisture which doesn't make it sweaty but keeps it hydrated and along with that help fight signs of ageing. I am sure it will hard for a moisturizer to do this as Anti-ageing moisturizers are generally heavier and more moisturizing but Facial Serums are made for this. So, today I am sharing 10 Best Anti-Ageing Facial Serums In India which will help you pick one for your skin type.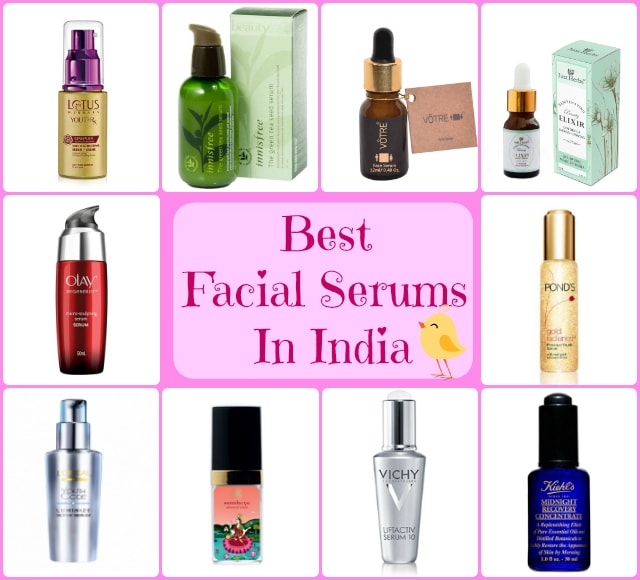 These Anti-ageing facial Serums are highly concentrated form of nourishment and have skin benefiting ingredients which gets absorbed quickly into the skin leaving no sticky or heavy feel. I have been obsessed with facial serums in my skincare regime . These help restore skins moisture and make it soft and supple. I compiled this list of Best Face Serums in India keeping in mind different skin types. So, lets get started with best skin serums for oily, combination, dry and ageing skin which is easily available in India and see who all fall under the best facial Serums category in India
Best Anti-ageing Facial Serums in India:
So, these are all Best Facial Serums in India that you can give a try. I tried to look for affordable facial serums in India too but couldn't find much so this is one thing in skincare where you actually have to invest in order to enjoy beautiful and younger looking skin.
I am sure you can pick one for you from these best face serums for oily, combination, dry and ageing skin which is easily available in India.
Don't Miss to Checkout:
I have tried Lakme Youth Infinity skincare and you can check Lakme Youth Infinity Serum review. I really liked the serum but rest of the range is a passe.
Have you tried any of these facial serums? Which one if your favorite?