10 Best Facial Mists in India
Hello Gorgeous,
Today, I am sharing a list of 10 Best Facial Mists in India. Facial mists are the latest trend in skincare and I feel each of you should have it in your skincare kit especially in summers because they help the skin to deal with summers in so many ways. If you are not aware of what facial mists are then read on.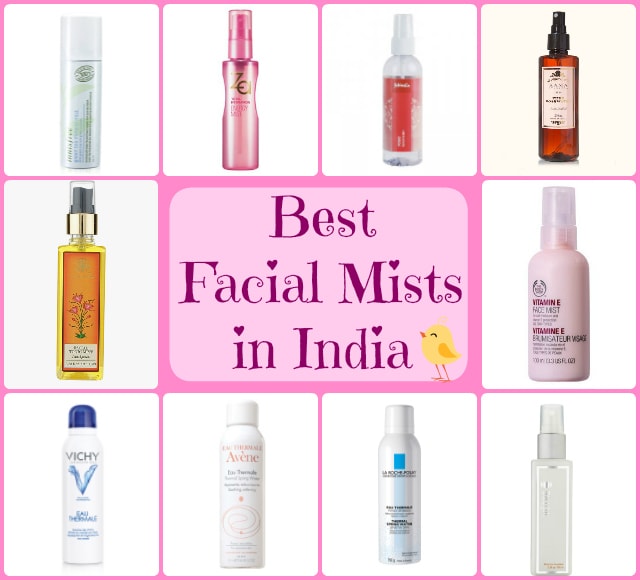 What are Facial Mists?
Facial Mists contains natural minerals and extracts which soothes irritated skin and calms the redness.
They are also enriched with anti-oxidants which helps fight signs of ageing.
They refreshes and reinvigorates dry/ dull skin instantly.
They also help to treat and soothe skin problems like Rosacea or Dermatitis
They are usually on the pricier side but for the formula which is all natual and will do only good to the skin I don't mind paying.
Some of these can also be used over makeup as a setting spray
Facial Mists can instantly transform skin with fresh and dewy look but you need to use them in the right way to reap all the benefits because they are basically water which will evaporate in minutes from the skin.
How to use Facial Mists?
Spray it on your face from a little distance.
Let it dry for a minute and then pat it down with fingers.
Lock in the moisture and the benefiting nutrients with a moisturizer.
Best Facial Mists in India
So, these are some of the Best Facial Mists in India which will help skin in summers to stay calm and fresh. They are not very nourishing but are rich in minerals and have natural extracts which help reviving skin's health. A must have for summers!
Have you tried any of these Facial Mist? Which is your favorite Facial Mist?