10 Best Dry Shampoos In India: With Prices
It has been rightly said that "Necessity is the mother of all Inventions", but in this case we can say that Laziness is the Mother of Dry Shampoos Invention. ;).. ! Well, it is somewhat true because if you are lazy to wash your hair even on a 3rd Or 4th day dry shampoo will let you be lazy and still enjoy oil free, bouncy tresses. But if you have an oily scalp and you have to wash hair almost every alternate day or you running late for an important meeting but having a Bad hair day …. well Dry shampoos will be your Hero.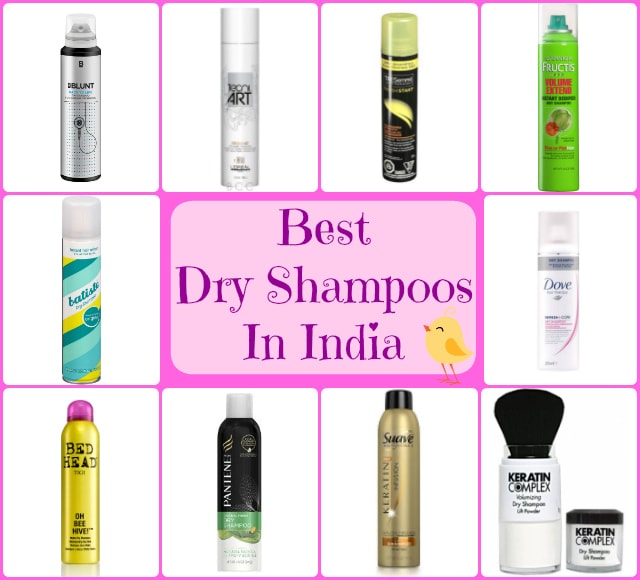 What is Dry Shampoo:
Dry Shampoo is sort of finely milled powder that you need to spray onto your hair roots and it will suck all the oil from the scalp giving you a fresh clean and bouncy hair again without actually washing your hair.
It helps in extending the time between hair wash, so if you wash your hair in every 3/4 days using dry shampoo in between can help stretching the wash time by 2-3 days.
It is water free way to freshen up hair instantly but is not a substitute for regular hair wash .
It is best for situations when you don't have time for a hair wash but still want to look your best
How to use Dry Shampoo :
Hold can in an upright position Shake well before use.
Spray on hair from six inches away from the hair. Spray evenly and close to the roots for cleansing the scalp. Spray on hair lengths to the ends for better texture
Part hair section by section and spray dry shampoo to the root area.
Massage it into scalp and leave on for two minutes.
Brush out the excess spray particles and no need to rinse it off.
Issues with Dry Shampoos:
The problem with majority of the dry shampoos is that it leaves a slight white residue behind which doesn't merge well with natural hair color.
As it absorbs excess oil from the scalp, it is not recommend for dry hair or dry scalp as it can lead to dandruff.
It is best to get your hair washed before using the dry shampoo again or it will lead to built up on scalp.
We don't have many options in India but here are some awesome Dry shampoos in India to suit your hair requirement in a seamless manner.
Best Dry Shampoos in India:
So, these are my Top 10 dry shampoos available in India, which will instantly refresh your hair and make them fresh, soft, voluminous and manageable.
Have you tried any of these Dry Shampoos? Which is your favourite Dry Shampoo?