My Skin Care Haul!!
I have been given strict instruction to finish the existing ones before buying any new products specially skin care stuff as they keep on piling and I usually forget about the previous ones which leads to wastage. I somehow survived this drought  and after following this no-more skin care shopping rule for almost 2 months now obviously with few sneak peeks like (AromaMagic Almond Nourish Cream(Review Here), Maybelline Baby Lips Lip balm(Review Here),  Jergens Shea butter Body  Lotion(Review Here), its raining skin care as I am on the verge of finishing most of the products from my current skin care routine. So, here is the list of new stuff on board –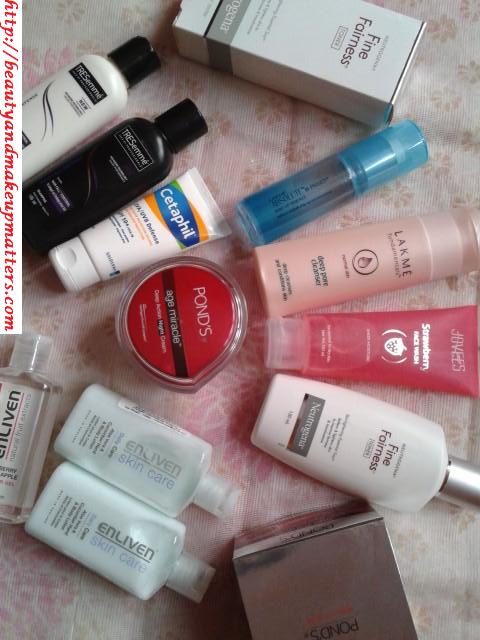 Neutrogena Fine Fairness Toner
Ponds Age Miracle Deep Action Night Cream
Lakme Absolute Bi-Pahse Makeup Remover
Lakme Fundamentals Deep Pore Cleanser
Cetaphil UVA/UVB Defense SPF 50+/UVA28
Tresemme Hair fall defense Shampoo
Tresemme Hair fall defense Conditioner
Jooves Strawberry Face Wash – Sheer Moisture
Enliven Skin Care Aloe Vera & Cucumber Hand&Body Lotion
Enliven Skin Care Raspberry & Red Apple Shower Gel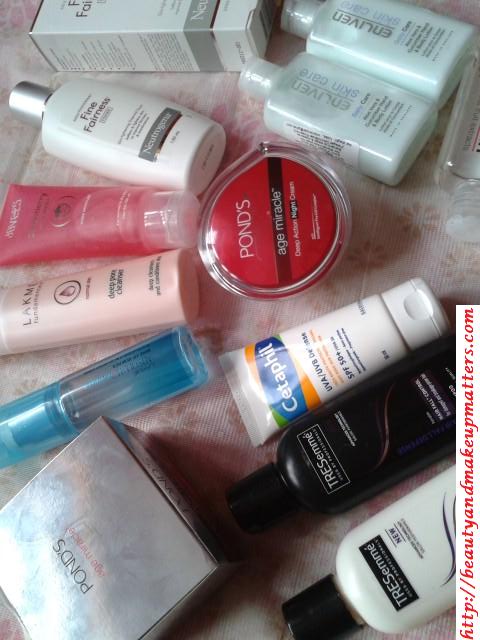 I am done with toner cum facial mist the FabIndia Rose Facial Water (Review Here), finished up night creams The Body Shop Vitamin E Nourishing Night Cream(Review Here) and daytime moisturizers The Body Shop Vitamin E Moisture Cream(Review Here) and Lotus Herbals Alpha Hydroxy Facial Moisturizer (Review Here). Mr.hubby made a huge contribution towards emptying the never ending cream as he used to scoop out a huge amount for each application.
Though my latest purchase AromaMagic Almond Nourish cream (Review Here) has a long way to go but adding an anti-ageing cream is justifiable. I don't own any such product and Ponds Age Miracle Deep Action Night Cream made my first anti-ageing cream.
Only last few drops of Maybelline Makeup Remover(Review Here) remains so replacing it with Lakme Absolute Bi-Pahse Makeup Remover. I can not do away with a creamy cleanser so trying Lakme Fundamental Deep Pore cleanser this time
This time adding a luxurious sunscreen Cetaphil UVA/UVB Defense SPF 50+/UVA28 to my bag.
Tresemme Shampoos are getting good review all around the blogosphere so thought of trying them at least once.
And as always I bought all of these online from my favorite shopping portal MedplusBeauty.com which is providing free samples along with your purchases so, enjoying these free goodies along Jooves Strawberry face wash, Enliven Skin Care Aloe Vera & Cucumber Hand&Body Lotion. Enliven Shower Gel and Body Lotions,
But my skin care isn't complete yet and I am on the lookout for a good day cream and a Serum. So, please suggest something that is for you and would like to recommend. I may also re-purchase FabIndia Facial Toner as it serves the purpose of facial mist to set makeup.
PS:-I love shopping from medplusbeauty.com for their best online prices and time to time drooling offers. No I have not been paid by medplusbeauty.com officials for promoting them here but it's just their class-apart service and my personal experience which makes this website stands out form the rest. There are few duds like Purplle.com which can really make your online shopping experience a hell. :pheww: :/)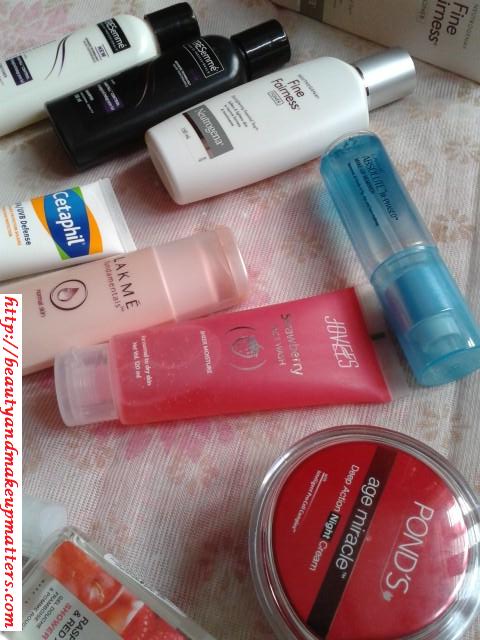 I have already started testing these items and it will take me few more days to come up with reviews. So, please bear with me and stay tuned for the rest.
Where To Buy :- Medplusbeauty.com, Healthkart.com
DISCLOSURE – This post contains an affiliate link, which will give me a commission when you click-through the link and make a purchase. When you shop through affiliate links, you help to support the site!